Making MDMA and Psilocybin-assisted therapies available in Australia- How to Access These Medicines Today to Treat Those With Serious Mental Illness
Date: Sep 09, 2020
Event Type:
Online
Event URL:
https://mindmedicineaustralia.org/event/webinar-making-mdma-and-psilocybin-assisted-therapies-available-in-australia-how-to-access-these-medicine-today-to-treat-those-with-serious-mental-illnesses/?mc_cid=4509a2749a&mc_eid=bf44035097
Registration URL:
https://events.humanitix.com/mind-medicine-australia-webinar-series-making-mdma-and-psilocybin-assisted-therapies-available-in-australia-how-to-access-these-medicine-today-to-treat-those-with-serious-mental-illnesses
Description:

Wednesday September 9 @ 7:30 pm - 8:45 pm
Free
Join this free, 60-minute online webinar to gain access to insights and learn about ground breaking treatments to chronic mental health conditions.
Regulatory schemes in the US (Expanded Access), Australia (Special Access) and Israel (Compassionate Use) enable physicians to apply to the Regulator for approval to treat patients suffering from treatment resistant PTSD with Medicinal-MDMA psychotherapy outside of a clinical trial. Switzerland has a similar scheme allowing LSD, Psilocybin and MDMA to be used with psychotherapy.
Mind Medicine Australia has had success in utilising the TGA's Special Access Scheme (SAS) to allow practitioners to access psychedelic-assisted therapies for a single patient. We will present an overview of the scheme, the application process, the templates that we have prepared to assist your submission and explain the approval process so you can access the medicines today and help those suffering.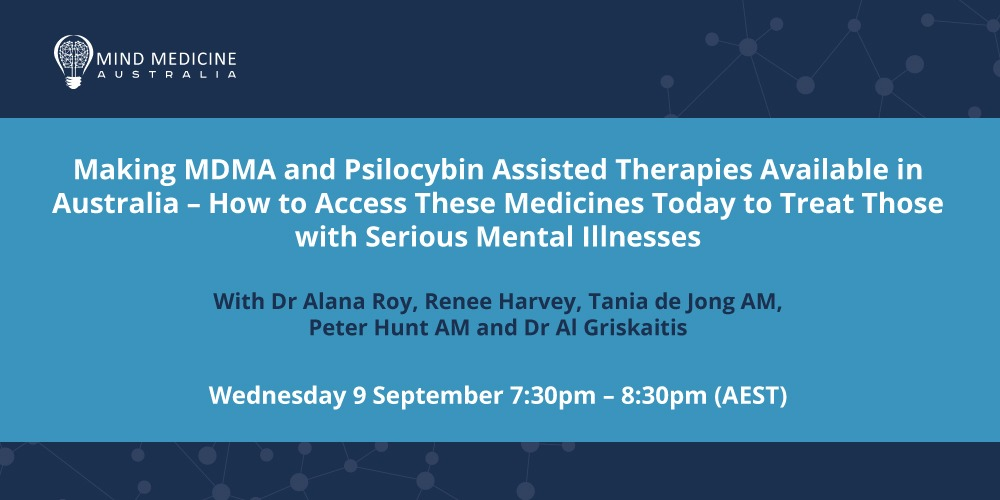 Focus:
Psilocybin
MDMA
Therapy