Sacred Plants, Religious Freedom and the Future of Psychedelic Spirituality
Date: Sep 08, 2020
Event Type:
Online
Event URL:
https://www.crowdcast.io/e/sacred-plants-religious/register?mc_cid=4509a2749a&mc_eid=bf44035097
Description:

A Conversation with Erik Davis, Kathleen Harrison and Bob Otis
Tuesday, September 8th from 12-2pm
Today's psychedelic renaissance has been largely secular, with university researchers running double-blind studies, and capitalists refashioning psychedelics into pharmaceutical medicines. But what about the psychedelic connection to the sacred? How do we understand and build psychedelic practices that go beyond personal psychological goals? Indigenous cultures typically use sacred plants in ceremonies, and its use are related to many spheres of life. But how do we relate with these if we are non-indigenous? Within American law, "religious freedom" has become a key principal for decriminalization and exemption of use. While this is a fundamental American right, only a few groups have actually received the special right to use psychedelics legally. Is the formation of official psychedelic "churches" the way to go?
Join us on Tuesday, September 8th for a special Chacruna Community Forum featuring scholar of psychedelic culture and mysticism Erik Davis, in conversation with renowned ethnobotanist Kathleen Harrison and former Decrim Nature founding chairman Bob Otis. Together, they will explore these fascinating questions, and attempt to envision what the future of psychedelic religion and spirituality might hold.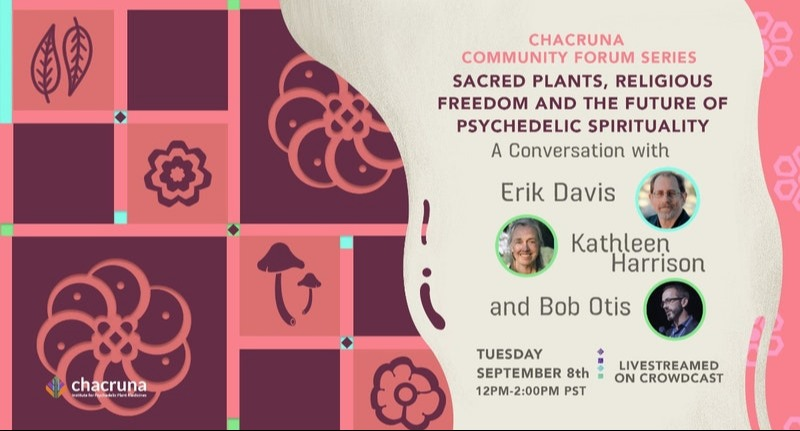 Focus:
Education