Psilocybin Versus SSRIs? A Cure for Depression
Date: Mar 24, 2021
Event Type:
Online
Event URL:
https://mindmedicineaustralia.org/event/psilocybin-versus-ssris/
Registration URL:
https://events.humanitix.com/mind-medicine-australia-free-webinar-series-psilocybin-versus-ssris-a-cure-for-depression/tickets
Locations:
Virtual
Description:

An interesting question is how psychedelics differ from conventional antidepressants that also work on the serotonin system. A trial currently underway at Imperial College will investigate a 6-week escitalopram treatment arm versus two psilocybin therapy sessions for treatment of depression. Robin Carhart-Harris will report on the results of this exciting trial during this webinar and answer questions.
Following the presentation there will be a Q & A panel with Dr Robin Carhart-Harris and Tania de Jong AM. This will be an opportunity to engage in a discussion about psychedelic-assisted psychotherapies for mental illness broadly, and what Mind Medicine Australia and other local organisations are doing here in Australia.
More about medicinal psychedelic treatments:
Psychedelic-assisted treatments offer enormous potential in providing a meaningful alternative to current treatments for mental illness. PTSD is a debilitating condition that affects tens of millions of people worldwide, with many more trauma victims diagnosed with comorbid conditions such as depression, anxiety and eating disorders. In recent clinical trials, MDMA has been shown to produce reliable clinical improvements, restoring patient safety and self-agency even for individuals who have suffered with PTSD for many years, and for whom many treatments have failed.
The wave of clinical psychedelic research and regulatory support is rapidly building, with experts forecasting the availability of psychedelic-assisted treatments in the US and EU within the next 2 to 5 years, subject to positive clinical outcomes in large trials that are currently underway.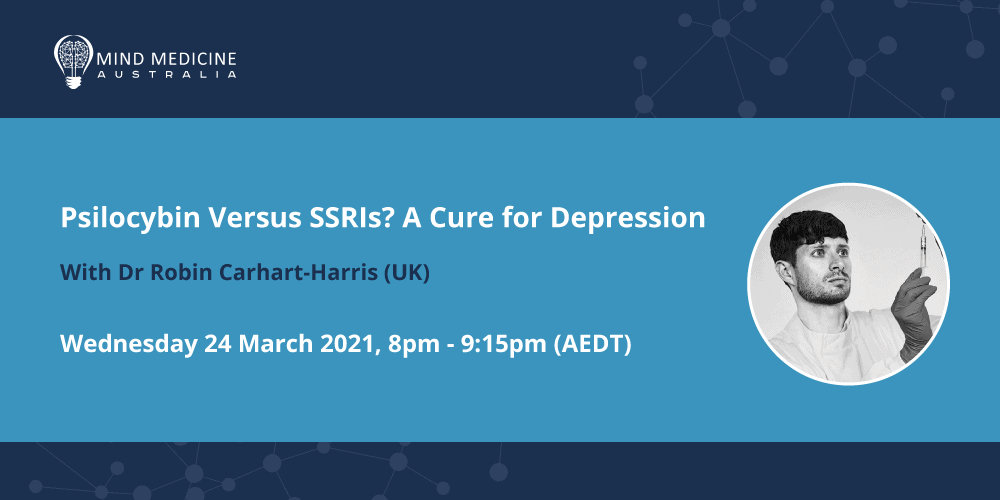 Focus:
Psilocybin
People:
Robin Carhart-Harris