Endocannabinoid Medicine: A Gateway to Psychedelic-Assisted Psychotherapy
Date: Jan 13, 2021
Event Type:
Online
Event URL:
https://mindmedicineaustralia.org/event/free-webinar-endocannabinoid-medicine-a-gateway-to-psychedelic-assisted-psychotherapy/
Registration URL:
https://events.humanitix.com/mind-medicine-australia-webinar-series-endocannabinoid-medicine-a-gateway-to-psychedelic-assisted-psychotherapy/tickets
Locations:
Virtual
Description:

Join this FREE, 60-minute online webinar to gain access to insights and learn about groundbreaking treatments to chronic mental health conditions.
The endocannabinoid system (ECS) is essential for human homeostasis. An ancient signalling system ubiquitous in vertebrates. There is increasing evidence that ECS dysregulation results in numerous diseases as well inhibiting the bodies innate healing response. As we look to the future of psychedelic assisted therapy programmes endocannabinoid medicine will have a vital role to play in preparing people for the assisted psychotherapy process.
This session will explore:
What is the ECS?
How is the ECS involved in the development and treatment of PTSD / anxiety / depression?
How can we manipulate the ECS to improve assisted psychotherapy outcomes?
WEBINAR SESSION
Date: Wednesday 13 January 2021
Time: 7:25pm for 7:30pm start – 8:45pm (incl Q&A) (AEST)
The presentation WILL BEGIN AT 7:30pm.
Location: Online. A link will be emailed to you with the viewing details once you have registered.
Following the presentation there will be a Q & A panel with Dr Jamie Rickcord, Tania de Jong AM and Dr Alana Roy. This will be an opportunity to engage in a discussion about psychedelic-assisted psychotherapies for mental illness broadly, and what Mind Medicine Australia and other local organisations are doing here in Australia.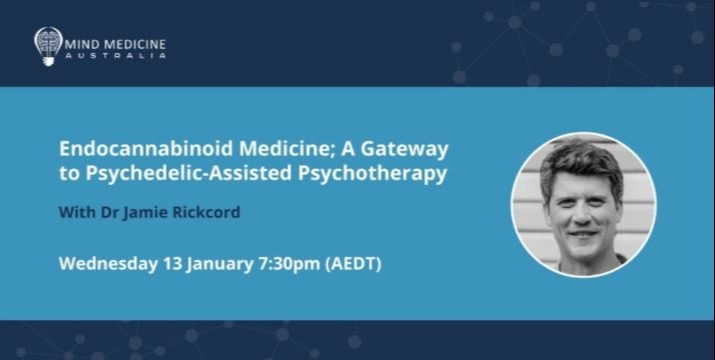 Focus:
Education